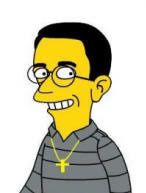 "Teófilo de Jesús" or just plain Theo is my religious pen name. My name in the world is of no consequence, I was born in Puerto Rico. I attended a parochial school, Academia Santa María for my primary and secondary studies until my graduation in the early 1980's. In the early 1990's, I graduated cum laude with with a Bachelor's Degree in Theology from St. Mary's University in Texas. I have completed graduate studies in information management elsewhere. I'm also a military reserve officer.
I'm joined in my life journey by my wife of almost 25 years, my high school sweetheart, who has given me two handsome sons both of whom I'm proud. And now, my oldest son, now married, has given us three grandsons! Benedicamus Domino!

- Read my Personal Mission Statement.
- Read my Personal Rule of Life
- Personality type: INTJ. More information here.
- I am also a regular contributor in the Free Republic Religion Board.
- Listen and watch Vivificat's official anthem!
Who is/was Teófilo/Theophilus?
Teófilo/Theophilus means "Lover of God" in Greek. St. Luke the Evangelist dedicated his Gospel and the Acts of the Apostles to a certain "Theophilus." It isn't clear if there really was a Theophilus, or if the name was a literary device invented by St. Luke in order to address every reader of his works as a "Lover of God." Either way, I like the meanings the name evokes.
Yet, there is another St. Theophilus I wish to honor. He was a Benedictine monk in Asia Minor, originally from what today is Bulgaria. He opposed the
iconoclastic heresy
and for that he was fiercely persecuted, maltreated, and finally exiled by the emperor Leo the Isaurian. He died ca. 750. His feast day is October 2. Imagine that! A Benedictine defender of icons in what later became Eastern Orthodox lands! There was so much resonance in that name for me that I chose it as my "oblate name" when I made final oblation in the Fall of 2005 and thus honor this Western Saint in Eastern lands in a particular way. He's portrayed in iconography between Sts. Eulampia and Eulampius, who were other martyrs.
There's a little bit more information
here
. Click on the icon to see it bigger.
What I'm Not...
A hermit.
A priest, a deacon or anyone in holy orders.
A professed member in the regular clergy — that means I'm no friar, or brother, etc.
A member of a Secular (Third) Order.
I am, however, an Oblate of St. Benedict, attached to St. Vincent's Archabbey in Latrobe, Pennsylvania. Again, I need to reaffirm that my opinions are my own and I don't claim to speak for the Oblates or the Benedictine Order, in general or in particular, at any time.
A Spiritual Director — My personal preference has been to find a priest or a monk, or a priest-monk who is a contemplative and can hear my confession. Of course, other men and women, lay and religious, can also be spiritual directors. Go as the Spirit leads you! Now, if you're one, you're welcome to instruct me.
A person with any official public or private role in the Church or in Church administration (other than reading the Epistles and the Prayer of the Faithful at Mass, as assigned).
What I Want to Make...
A difference. Hopefully, a good one, in the world, on anyone, on myself, no matter how small.
What I Want to Be...
I want to be holy, and I'll leave it at that, less it sounds utterly presumptuous.
What I Want You to Be...
I want you to be holy also, and for what I'm told, neither is impossible. We may try to do it together!
A favorite quote:
"

We call a man a bigot or a slave of dogma because he is a thinker who has thought thoroughly and to a definite end." - G. K. Chesterton